Game Night 101 - Our Top Tips and Tricks!
Just getting into board games? Here are a few tips to help you organize your evenings, your boxes and your sanity. You're welcome. ?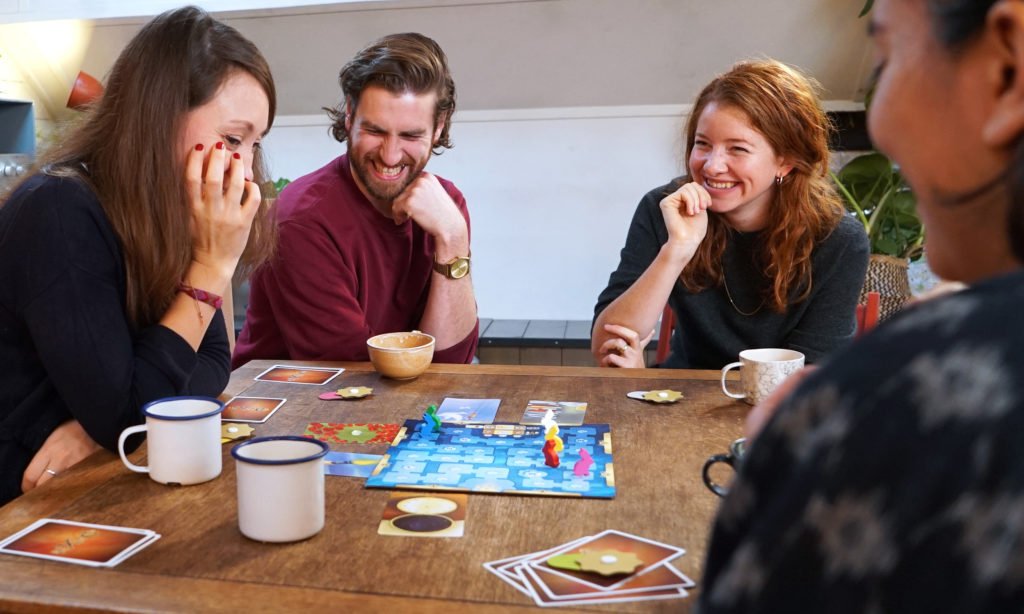 Do you enjoy tabletop games? Or have you ever been curious about them? Well, if you're anything like me, and evenings filled with laughter and good friends is your cup of tea, then you're sure to love them! Having said that, if I had to start all over again, I would have learned a few things before my incurable addiction to board games struck a few years ago. Since I believe in paying it forward, and in honour of International Tabletop Day, I'd like to share a few gaming pearls of wisdom, in the hopes that they'll come in handy.
Already an expert gamer? Share this article with those new players you're trying to recruit/convert ?.
It's a win-win!
PLAN FOR GAME NIGHT, YOU MUST
Why is it that adding a Yoda-esque spin to a sentence automatically gives is a sense of wisdom? ? Seriously, though, planning your game night is a MUST!
What do I mean by this? You see, inviting friends over for an evening of board games is the easy part. The tough part is choosing the game and explaining the rules. So, here are some tips to avoid wasting time during the BEST evening of the week:
TIP #1
Whether you're hosting or "guesting," be prepared and think about the games you might like to play—be sure to know the rules ahead of time so that you can explain them clearly. To make life easier, here are some quick and easy games with simple-to-explain rules.
TIP #2
To help decide on games for the evening, check out the average play time (this info is usually on the box). The catch? The VERY first time you play a new game, its average duration will most likely DOUBLE. Box suggests an hour? Plan for two. Since no one is as yet familiar with the game, it's to be expected that decisions and moves will take longer and it is better to be prepared, especially if your time is limited.
TIP #3
A delegated game night rule keeper is a MUST if you start playing regularly. This will save valuable time and allow things to roll more smoothly. Why not take turns each time, so everyone has a chance to explain the rules?
TIP #4
But what if you run out of time to read and learn the rules? Did you know that there are TONS of tabletop game tutorial videos available on YouTube, TikTok…? Yep! This allows players to learn the game in less than 15 minutes and everyone can reference the same content. And if the video saves the day, take the time to like it on the creator's page. Everyone wins! ?
KEEP THE TABLE CLEAN, YOU SHOULD
I see you coming … this is elementary, dear Watson. My answer: yes and no. We often don't think that players will get so carried away that they'll spill cocktails, mocktails, juice and other sweet beverages on the table where our PRECIOUS games are. *cue the voice of Gollum* So, I humbly offer a few little tips to avoid any unfortunate and angry incidents:
TIP #1
Provide coasters for cold beverages.
TIP #2
Offer containers with lids for said cold beverages beforehand.
TIP #3
Assign another room for coffee/chat/chip breaks to avoid damage and greasy fingers. Bonus: a little change of scene and players will feel refreshed and ready to resume the game.
TIP #4
Provide cleaning wipes if, despite your precautions, you find yourself with spills or greasy finger marks.
TIP #5
Keep a small waste bin, bag or container close by to avoid cluttering the table with napkins, papers, wrappers…
TIP #6
Set out small bowls so that players who are further away can reach the necessary play components and avoid dropping items OR WORSE knocking over glasses (horror!)
TIP #7
Provide a tower or dice tray for games with frequent dice rolling. This will also minimize the risk of unfortunate collisions that can lead to an unexpected fluid spillage.
KEEP GAME BOXES TIDY, YOU SHOULD
I know, I know … most game boxes come with their own storage for pieces and components. Again: yes and no. The boxes and their respective storage areas are getting better, but we can still have (unpleasant) surprises. So, here are some must-haves to keep on hand when packing up these treasures.
MUST-HAVE #1
Rubber bands for cards. To avoid damaging your cards, inexpensive hair elastics will save your life! Bonus: to prevent cards from folding, you can buy card sleeves at most game stores. ?
MUST-HAVE #2
Small bags. Here, I suggest an eco-friendly fabric option, if possible, but otherwise a good old Ziploc bag will do. We occasionally run out of storage for small components, and they're so easily lost that good storage is key.
MUST-HAVE #3
Elastic box bands. Got a large, full box that barely closes? An elastic box band will keep the cover firmly in place while on the go should the ride be a bit bumpy ?
MUST-HAVE #4
A GOOD travel bag for games. This is for sure an investment, but once you have one, you won't want to go back! I'm a convert! Not only will a good-quality bag allow you to keep your games tidy and safe while on the move (think winding, bumpy dirt roads to the cottage), it will also help maximize the number of games you can bring. JACKPOT!

BONUS! Not essential, but still interesting: did you know that there are trays and containers available that will keep each player's game pieces together? An awesome invention if you ask me! Not only does this make it easier to arrange pieces by color, but it also reduces set-up time for the next game, since each player already has all the pieces they'll need for the game you're playing. Check them out at Gamegenic! You won't be disappointed!
Whew! We got there in one piece. Now you know all the secrets to jumping into the world of gaming! ? Game on, young padawans!
Click here to find our all our games, accessories, and essentials, at a shop near you!