2023 Mother's Day Gift Guide! Games for Any and Every Mom!
This Mother's Day, give mom the gift of play. Check out our suggestions for the best tabletop games for any mom, no matter what she's into!
7 Wonders
Azul
Dixit
Family
Games
Ticket to Ride
Unlock! – Escape Adventures
Who's playing?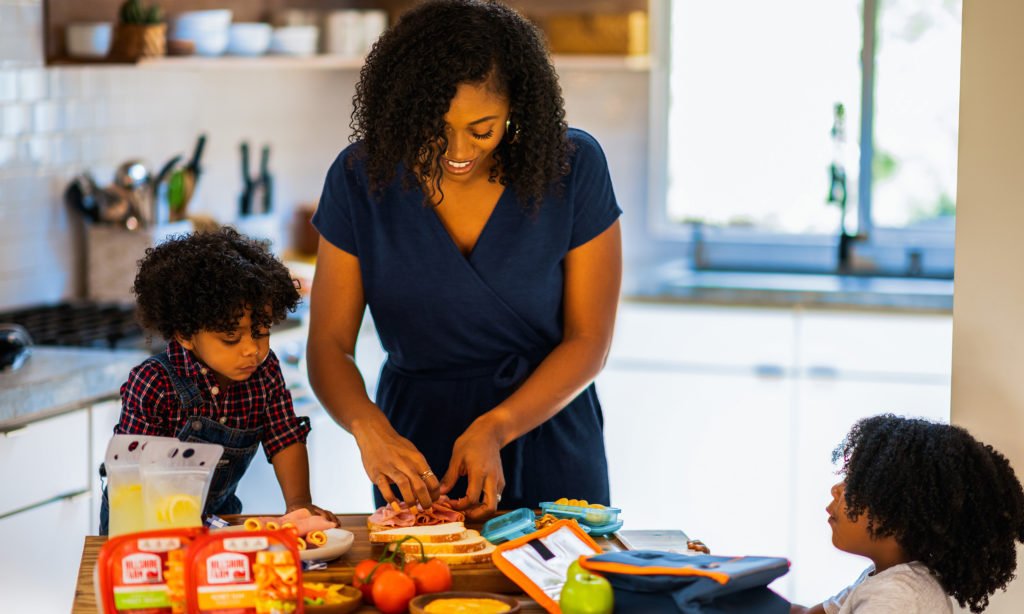 Mother's Day is just around the corner! This year, why not give Mom the gift of play? With this list of our best tabletop games for any and every mom, you're sure to find something that will bring the sparkle to her eyes and remind her to take a little time for herself to have fun.
CULTURE CONNOISSEUR
If your mom has a penchant for learning about other civilizations, art, architecture and cultural icons, then she'll love 7 Wonders. Perfect for both beginners and experienced players, this epic civilization-building game, has each player lead one of the seven great cities of the ancient world. 7 Wonders boasts several versions and expansions, including 7 Wonders Architects, 7 Wonders Edifice, 7 Wonders Duel and more.
SLEUTH
Moms are notorious for knowing exactly what you're up to … it's kind of a superpower? If your mom enjoys deciphering clues and solving mysteries, then Unlock! is her ideal game.
The Unlock! line features a series of cooperative games, each of which engages the same critical thinking parts of your brain as an escape room. Using an app and a single deck of cards, players explore scenes, combine objects, crack codes and solve riddles. Since the launch of the Unlock! line, more than a dozen versions have been released, including Unlock! Escape Adventures, Unlock! Legendary Adventures, Unlock! Exotic Adventures, Unlock! Timeless Adventures, and more! There's even one for kids, which will keep them busy for, oh, 30 minutes, which I'm sure Mom will appreciate ?
FOODIE
If Mom loves food (and really, who doesn't ?), these games will tantalize her tastebuds!
Throw Throw Burrito
Age: 7+ / Players: 2–6 / Duration: 15–30 minutes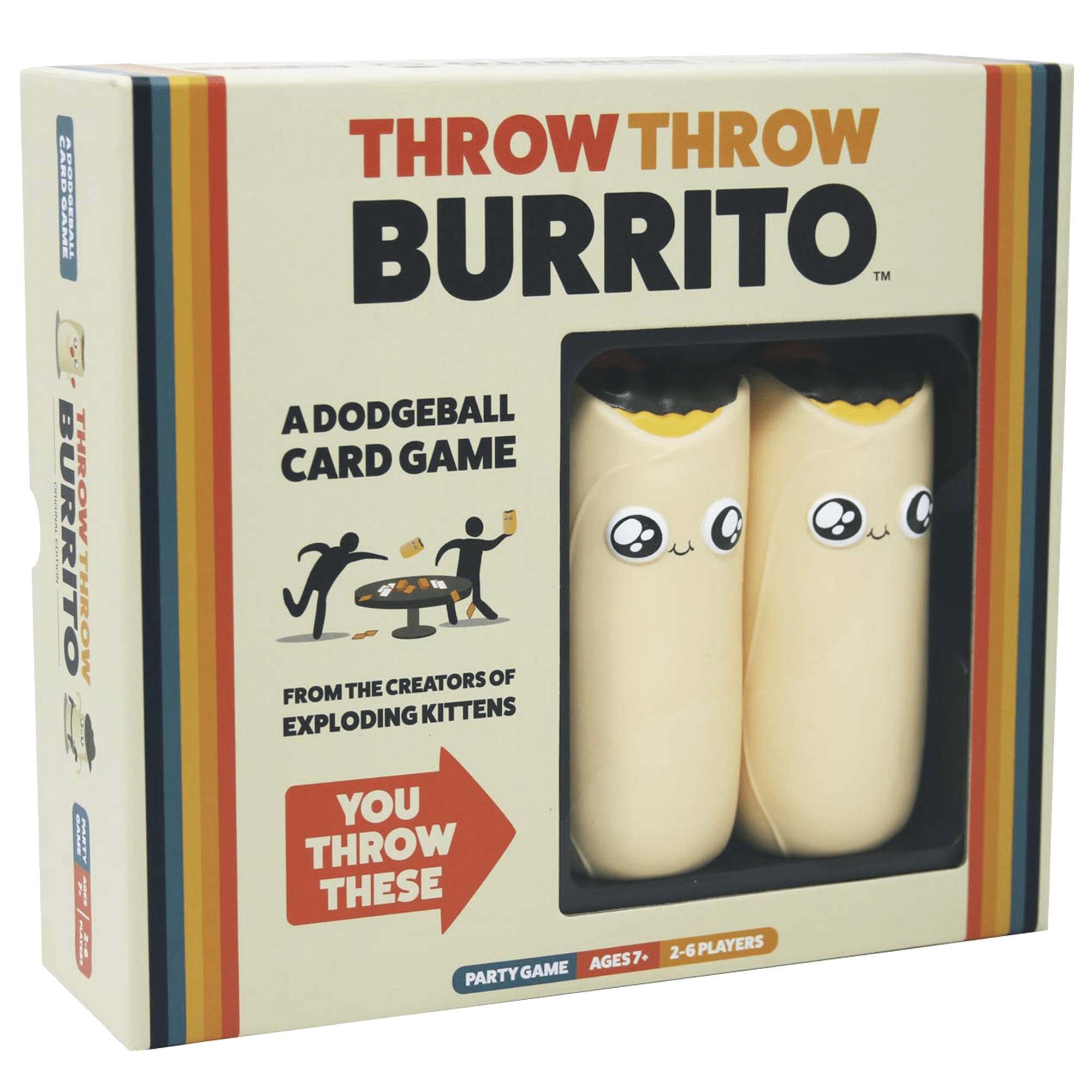 Throw throw Burrito is what you get when you cross a card game with dodgeball. Collect matching sets of cards faster than your opponents, while simultaneously ducking, dodging, and throwing squishy airborne burritos! So, clear the living room and put away the antiques, because you've never played a card game quite like this before!
We hope you're in Mom's "good books"! If not, you'll find out just how good her throwing arm is ?
Azul—Master Chocolatier
Age: 8+ / Players: 2–4 / Duration: 30–45 minutes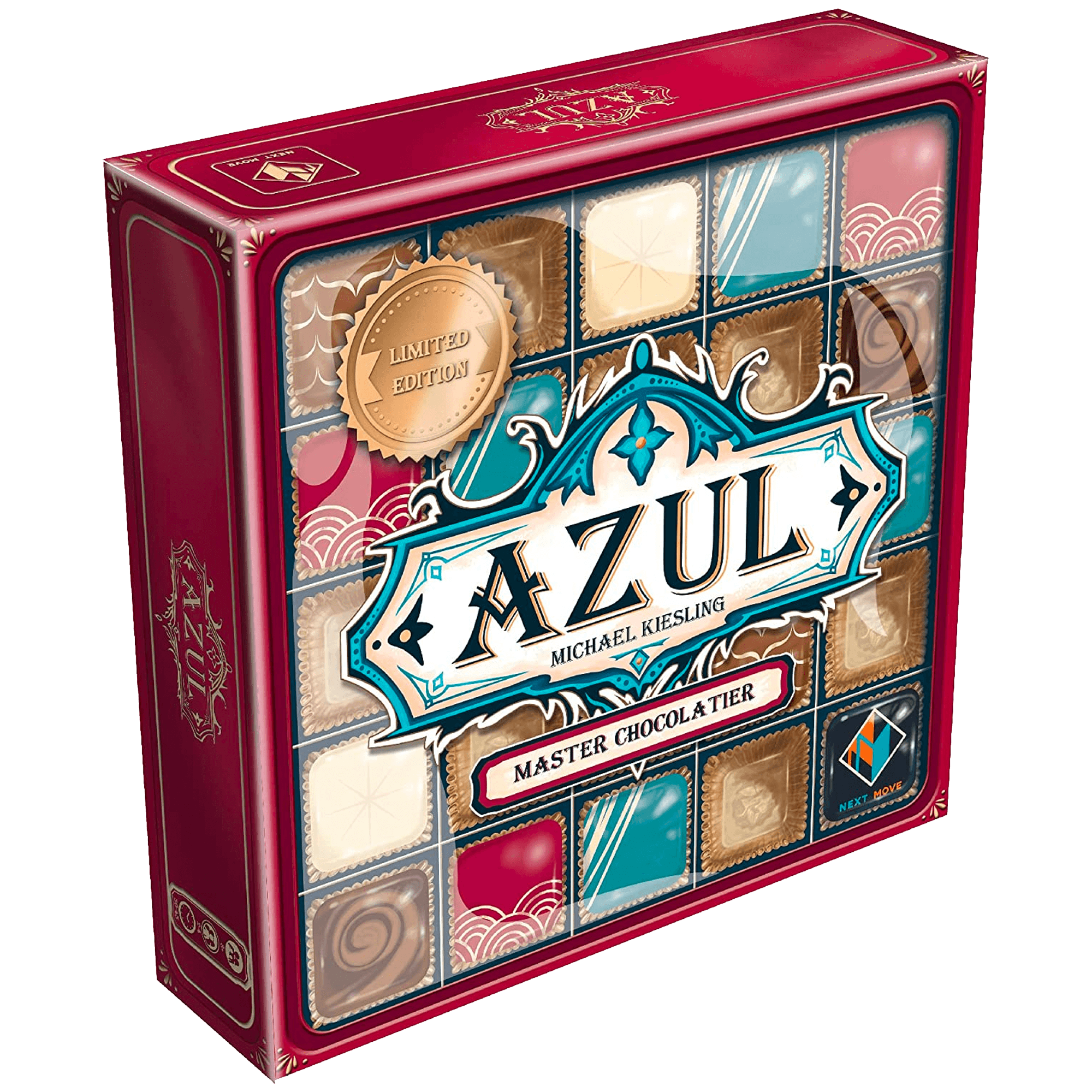 A little chocolate for Mom on Mother's Day? This limited edition of the classic game Azul takes on the essence of a sweet treat. Beautifully crafted, Azul—Master Chocolatier includes a variation that brings a special flavour to each round.
WORLD TRAVELER
Ticket to Ride
Age: 8+ / Players: 2–5 / Duration: 45–60 minutes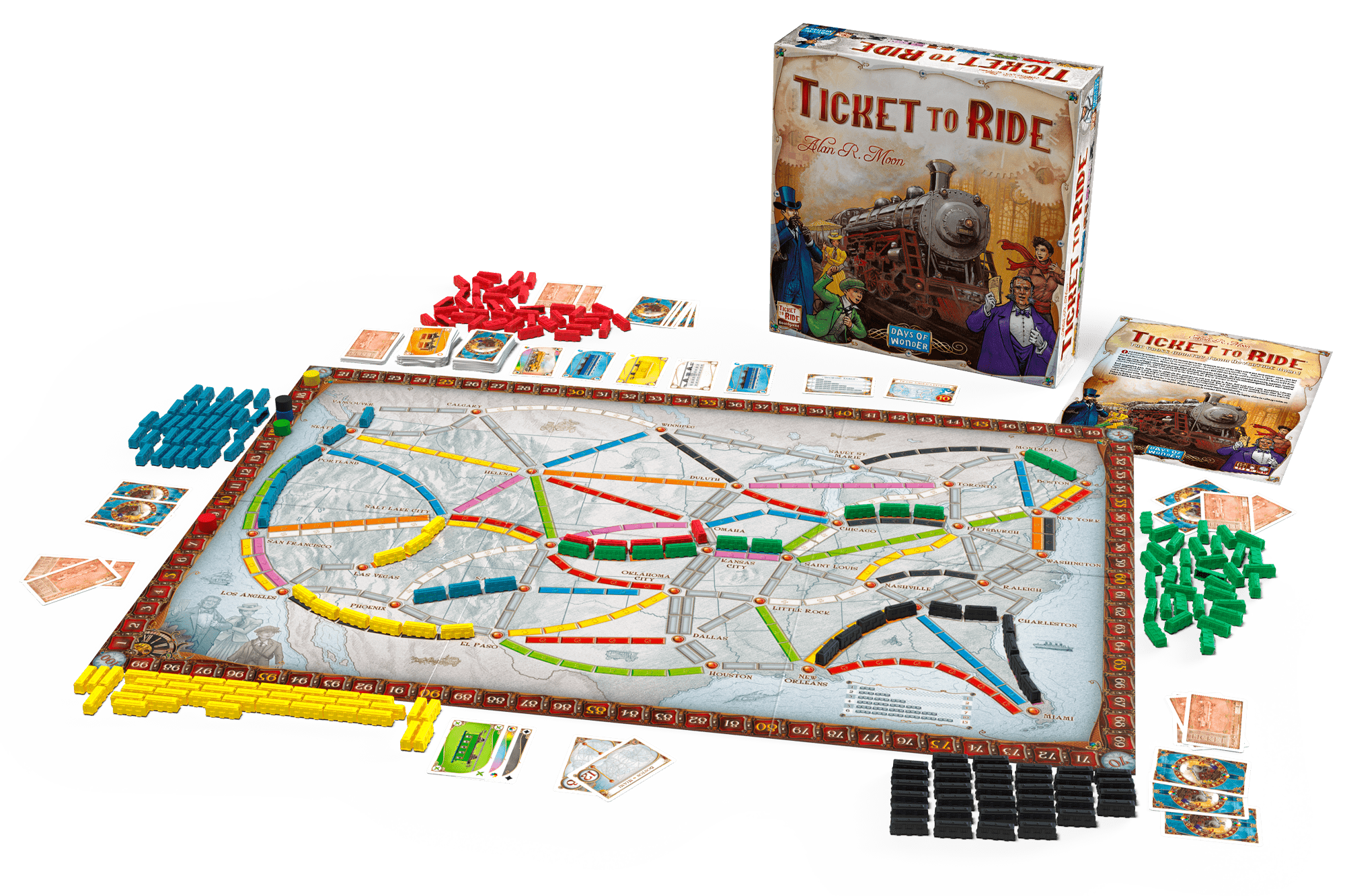 She has been around the world and back! Of course, that was before you were born ? If Mom has wanderlust, Ticket to Ride will take her on a journey across the globe from the comfort of the living room. Simple-to-learn, fun-to-play, Ticket to Ride keeps players engaged by requiring continuous strategic thinking, without overwhelming the uninitiated. With dozens of versions, including Ticket to Ride — Europe, Ticket to Ride — San Francisco, Ticket to Ride — New York, and more, your tracks are sure to be covered!
HORTICULTURIST
Azul—Queen's Garden
Age: 10+ / Players: 2–4 / Duration: 45–60 minutes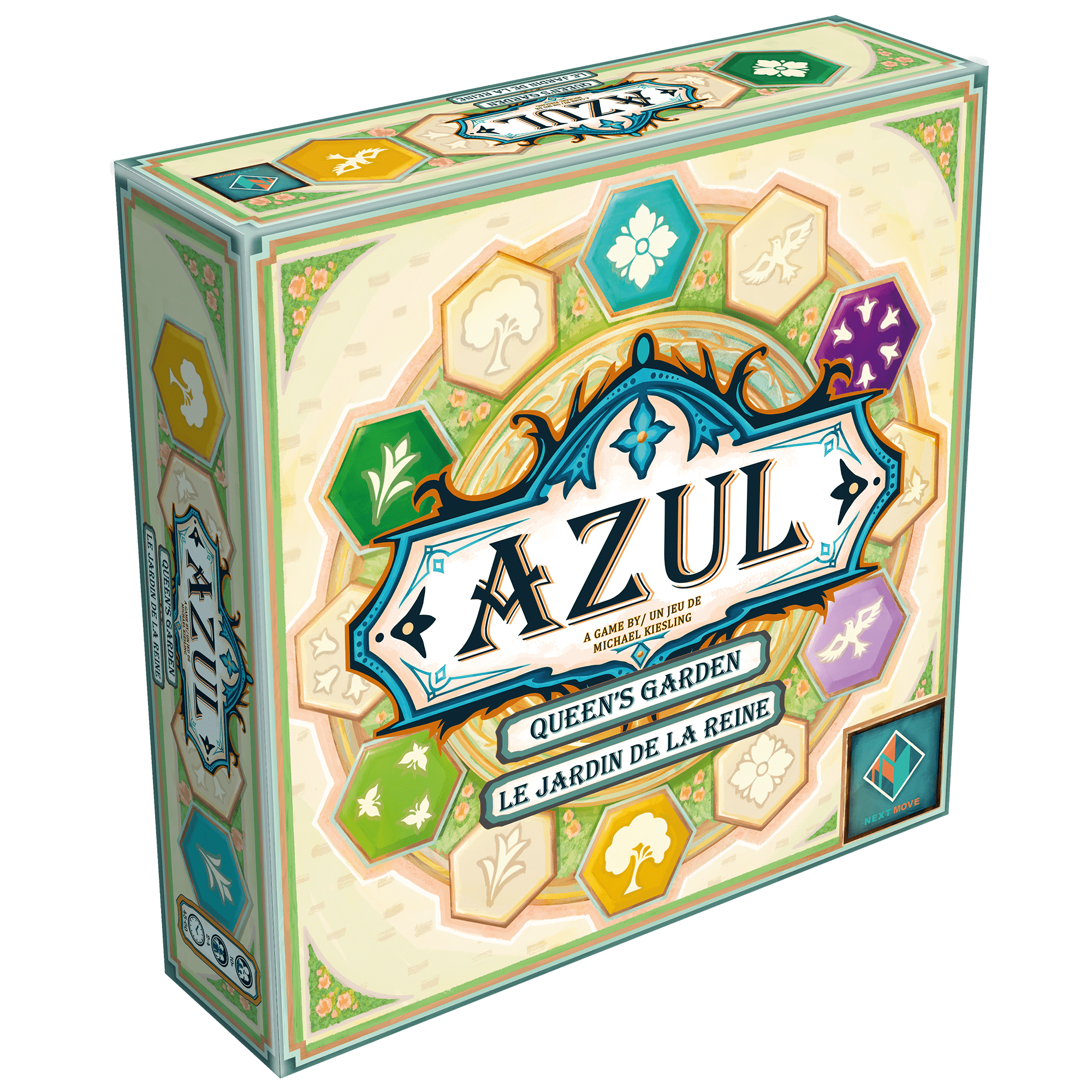 Does your mom enjoy spending spend time in her yard, enjoying the beauty of nature? If so, she'll love the aesthetics of Azul—Queen's Garden! In this strategic tile-placement game, players become the best landscape designers of Portugal, who must arrange a magnificent garden for Queen Maria of Aragon, wife to King Manuel 1. Only the most incredible creations will flourish and win the Queen's blessing.
This is a standalone game. No other Azul product is needed to play!
TRADITIONAL CARD-GAME LOVER
SETUP
Age: 8+ / Players: 2–4 / Duration: 15–30 minutes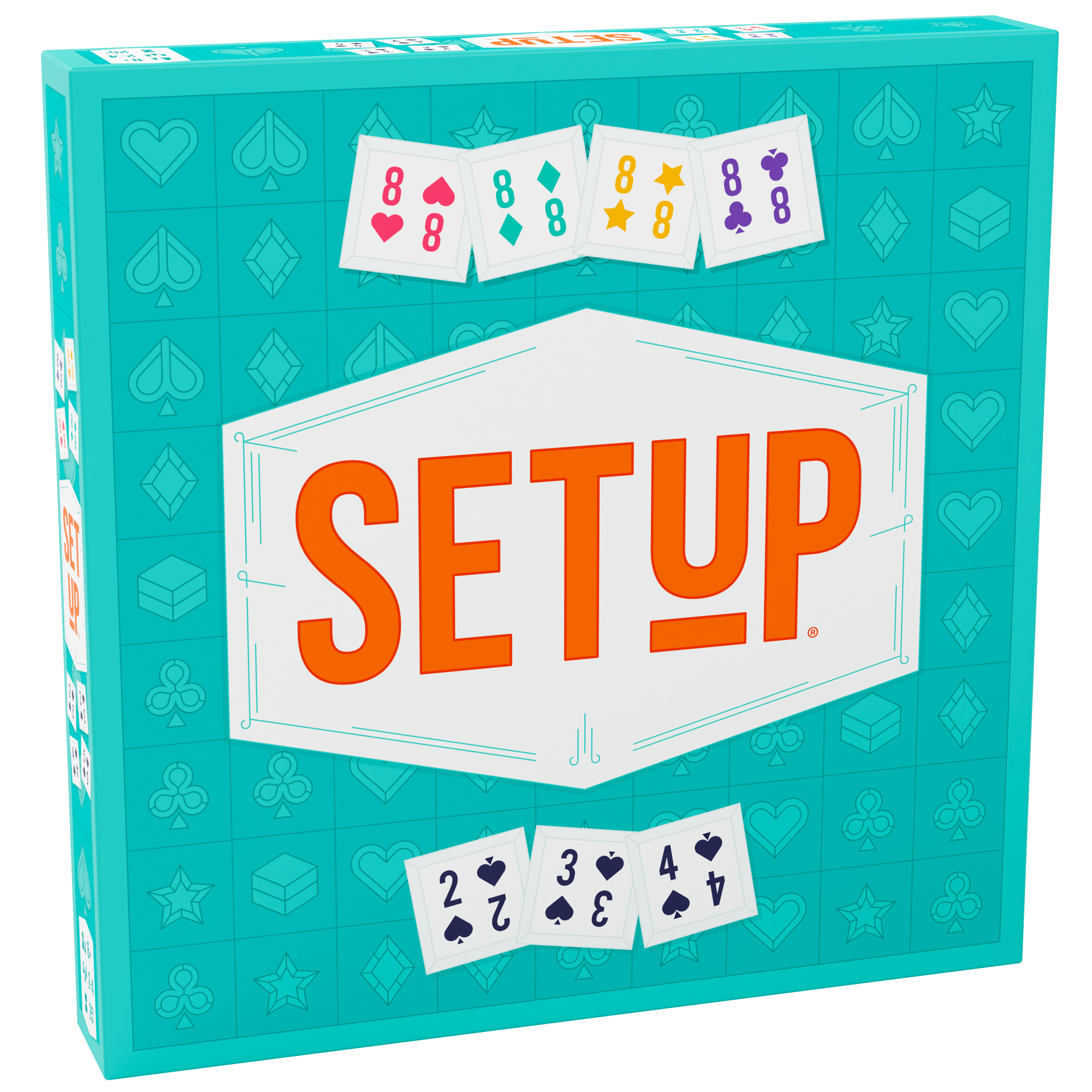 If Mom loves traditional card games, she'll love SETUP. An innovative new tile-placement title in the Rummy genre, SETUP is a simple game of tile placement, with sets progressing in all directions. Players combine familiar suits and numbers on the board to score points and complete their sets before opponents. A perfect addition to any cozy family game night.
PUZZLE ENTHUSIAST
Does Mom like to relax in the evenings with her beverage of choice and a good puzzle? If so, then you have come to the right place! Today's puzzles are works of art and with this selection of stunning options, you're sure to find something mom will love!
DIXIT PUZZLES
Renown for their enchanting images, lighthearted storytelling and guesswork, the games in the Dixit Universe are among the most celebrated throughout the world. Featuring the stunning artwork of Marie Cardouat and Marina Coudray, the beautiful illustrations found in Dixit can be enjoyed in over a dozen beautiful 500 and 1,000-piece puzzles.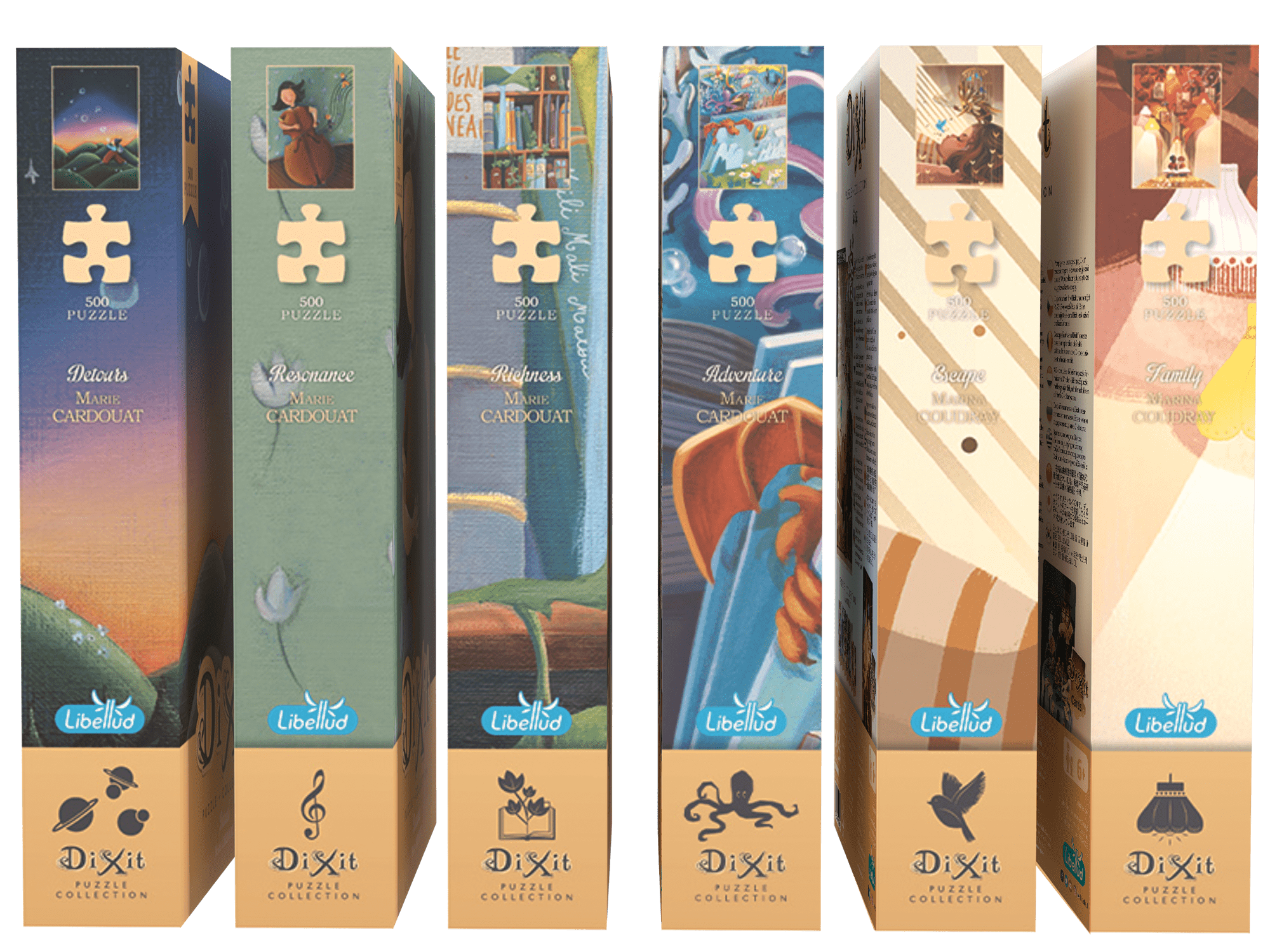 Created as a thank you to Dixit fans everywhere, this collection features six captivating 500-piece puzzles.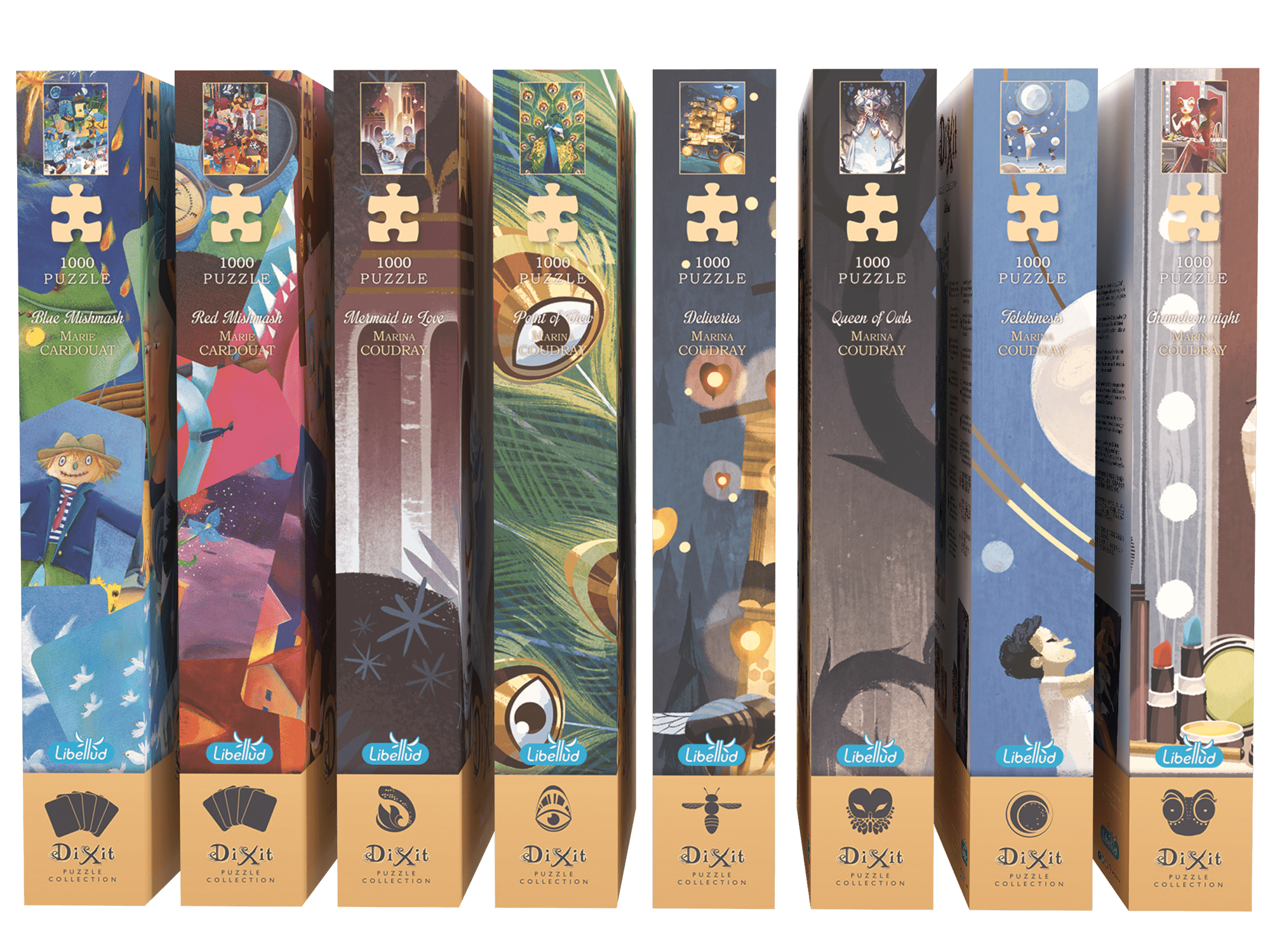 Eight 1000-piece puzzles complete the Dixit puzzle line. Can you finish them all? We dare you! We predict days of fun in your future! ?
GIBSONS PUZZLES
In the puzzle business for nearly 30 years, the Gibsons collection features the highest quality products and stunning artwork.
Wildflower Garden—500 Pieces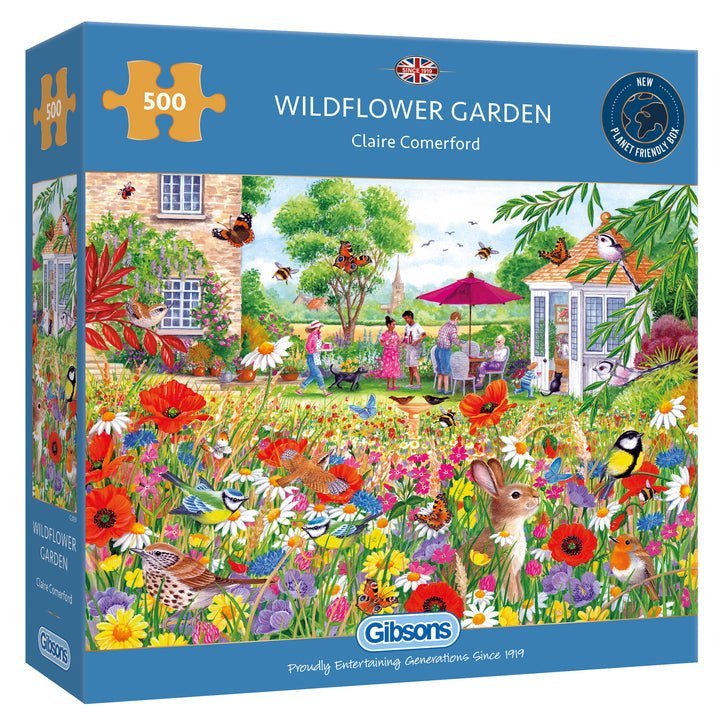 in this beautiful scene a bright country garden is beaming with life. In the background families are flocking to Garden Teahouse for a glass of cold lemonade. Whether you are a wildlife lover or simply enjoy putting together a colourful jigsaw, this one is for you.
Wish You Were Here—4 × 500 pieces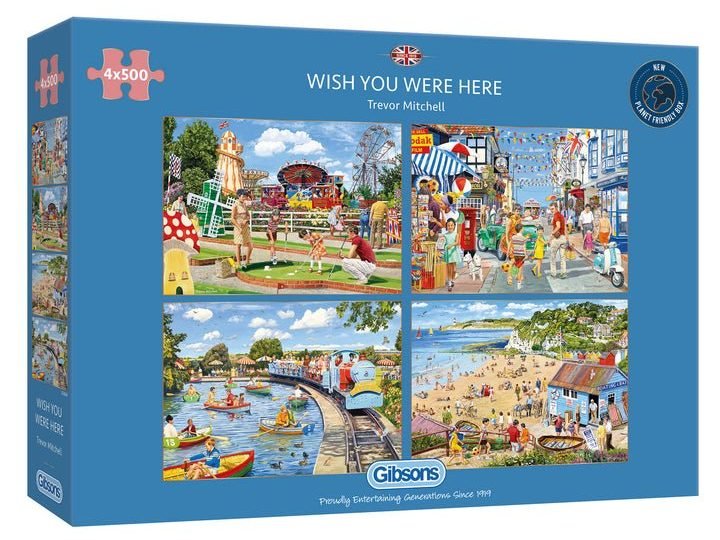 Take Mom on a trip down memory lane to the heyday of holiday camp fun. Experience the nostalgia of a trip to the beach to build sandcastles, take a boat ride, hop on the little train, or enjoy a round of mini-golf.
Mermaid Street, Rye—1000 Pieces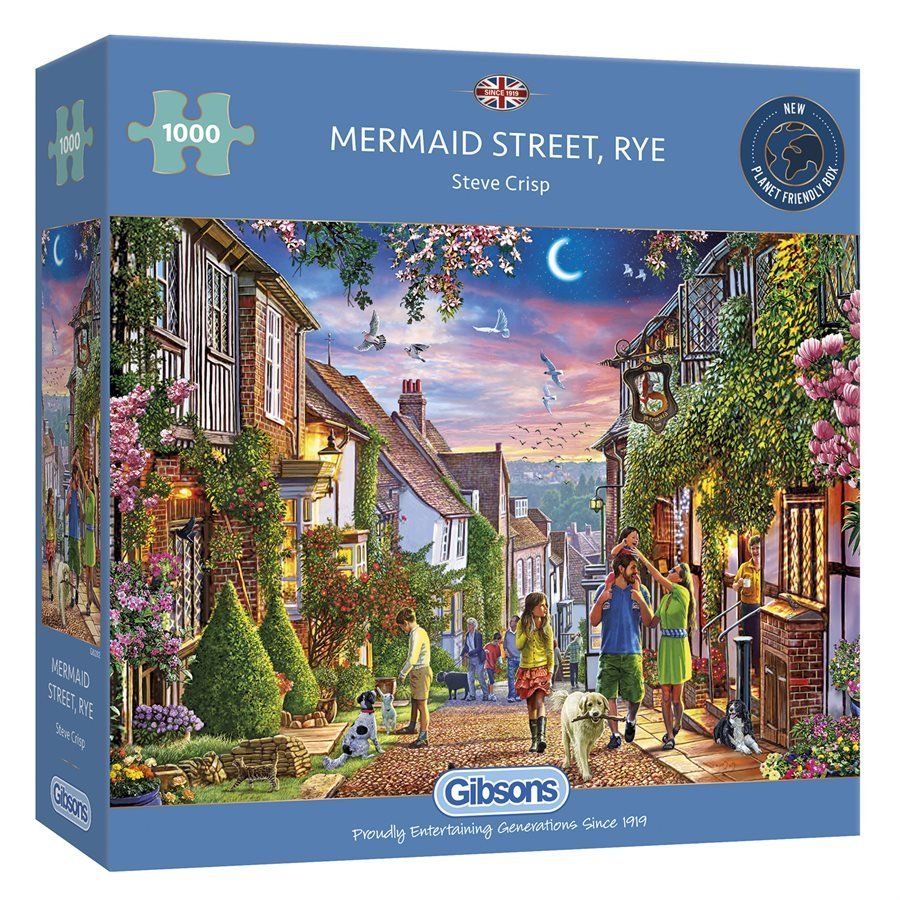 A tranquil summer's night scene in Rye's Mermaid Street, one of the prettiest streets in Britain is a gift sure to enchant and delight Mom. Relaxed families walking their pets, cozy lights glowing from windows and a flock of birds soaring in the moonlit sky.
Purrfect Plants—1000 Pieces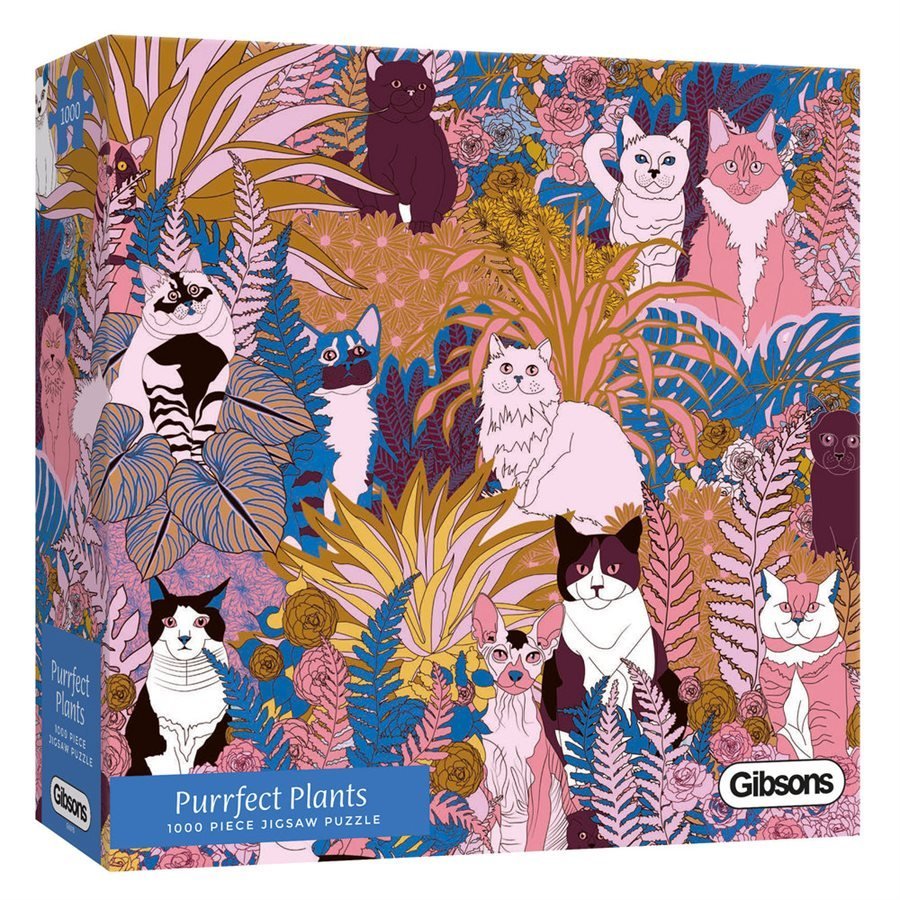 Find the mischievous cats in this colourful illustration, some obvious and some slightly hidden among the plants! With a retro feel, this purrfect puzzle is packed with colours and patterns.
SCHMIDT SPIELE PUZZLES
Amsterdam—500 Pieces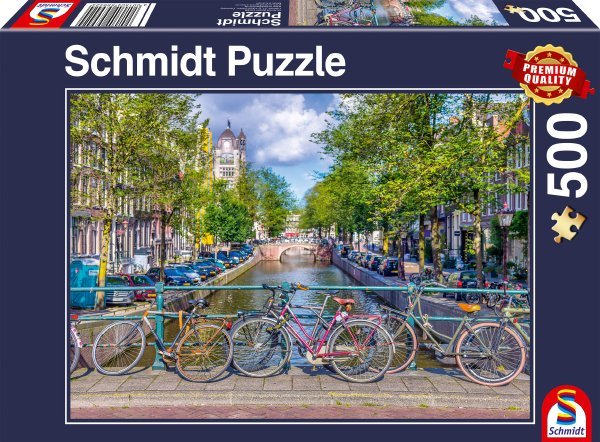 Take Mom to Amsterdam, the city of bikes and canals with this colourful 500-piece work of art.
Dog Selfie—500 Pieces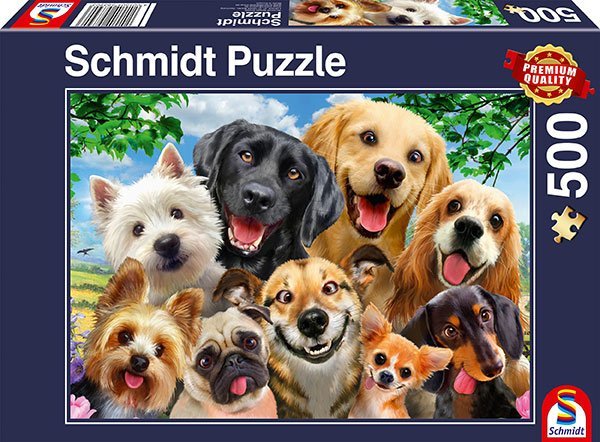 If she's a dog lover, you'll capture her heart with 500 pieces of pure puppy love ?
Old Café in Abkhazia—1000 Pieces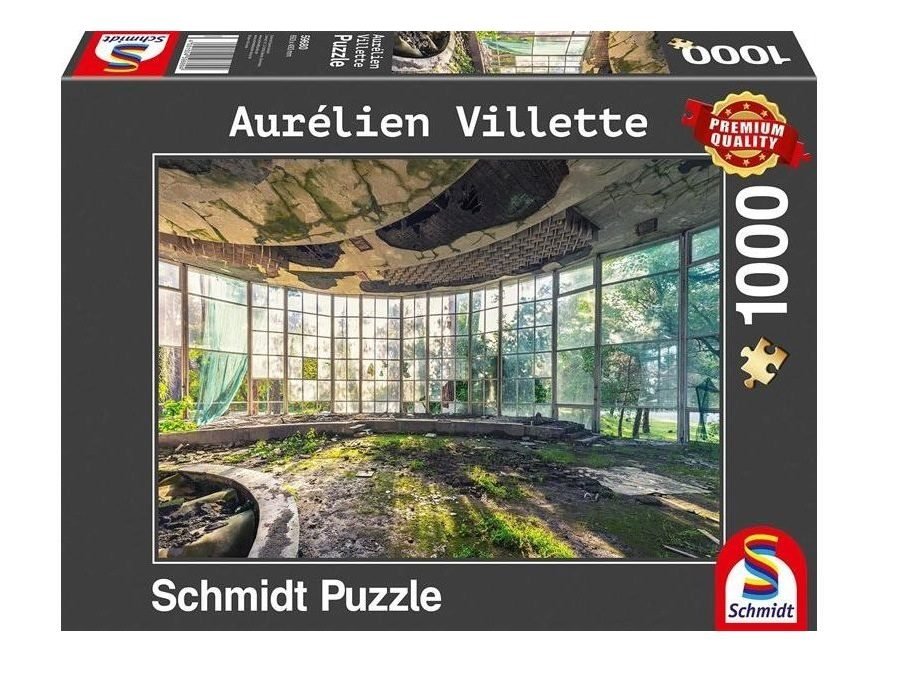 Set in an old, abandoned café, this 1000-piece puzzle possesses an eerie ethereal beauty that is sure to entrance Mom for hours.
Natacha Einat: I have A Dream—1000 Pieces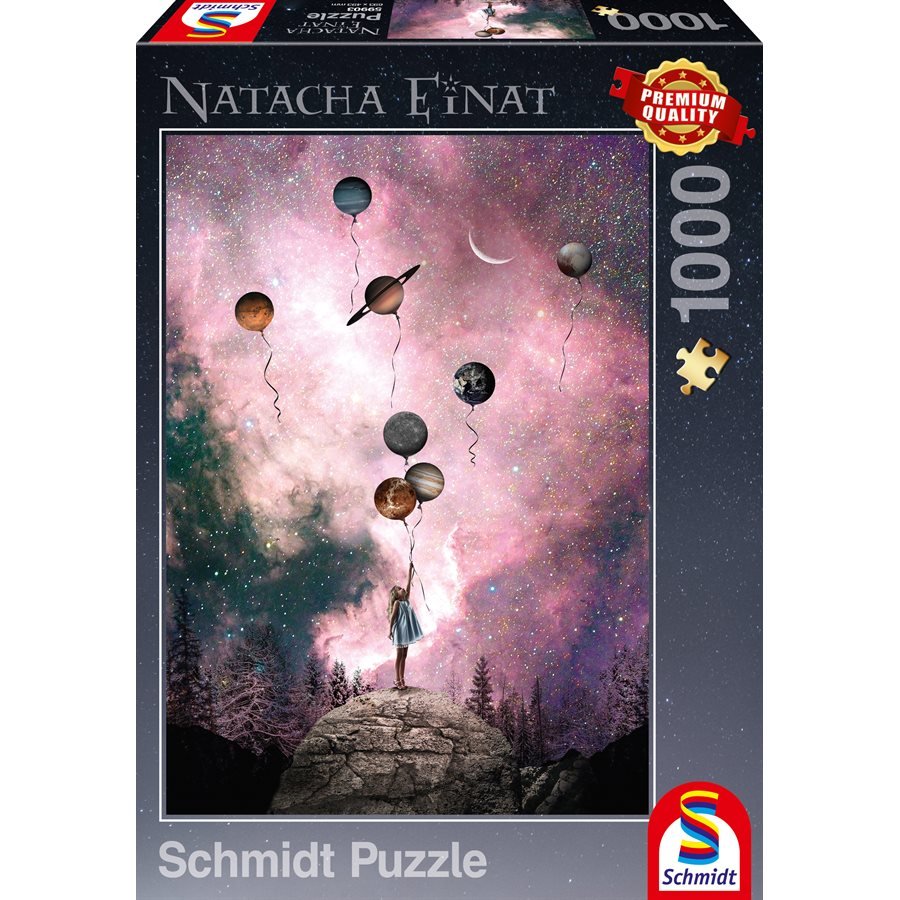 Fly away with this surreal adventure, where the possibilities are limitless, and magic is written in the stars.
Find these and other great gift ideas for Mom at a store near you.